Align, focus and engage your workforce.
Powerful goal management that helps employees align their goals with company objectives
Or Learn more
OKR based goal management
Align the entire organization
Goals are critical for an organization to be able to give its employees direction and focus. Studies show a dramatic increase in both employee and organization performance when an organization effectively sets goals and encourages its employees to align their goals with the company's overall strategy.

With Workteam, you can make company objectives readily accessible to all staff and employees will find it easy to create goals that align with managerial, departmental, team and corporate objectives.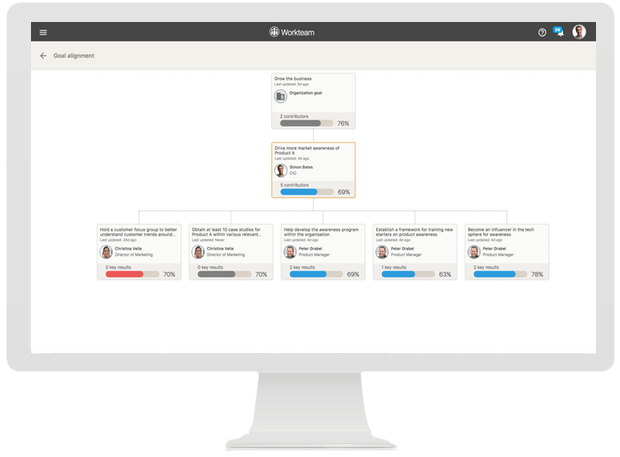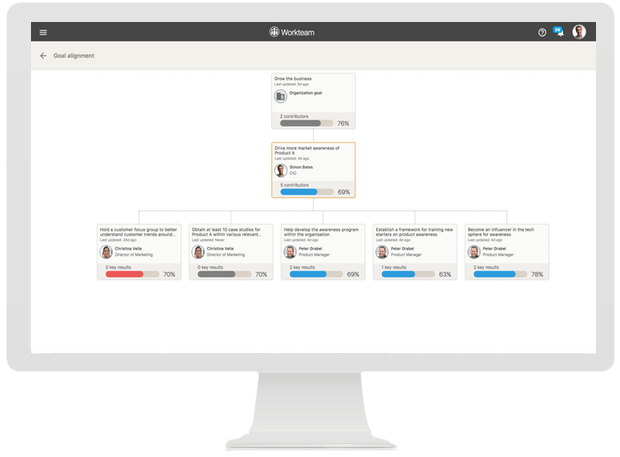 OKR based goal management
Define clear outcomes with key results
Key results define the success criteria for goals. With Workteam, you can define several different types of key results to accurately represent the metrics driving goal progress.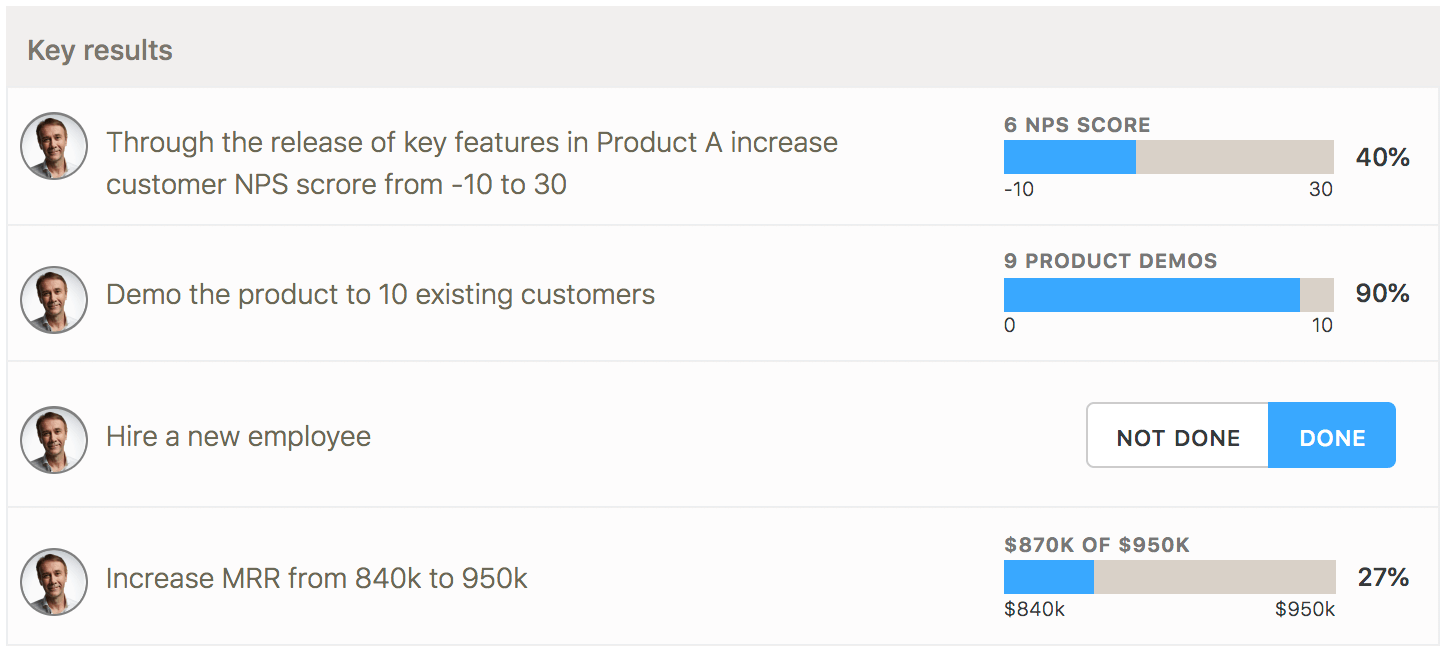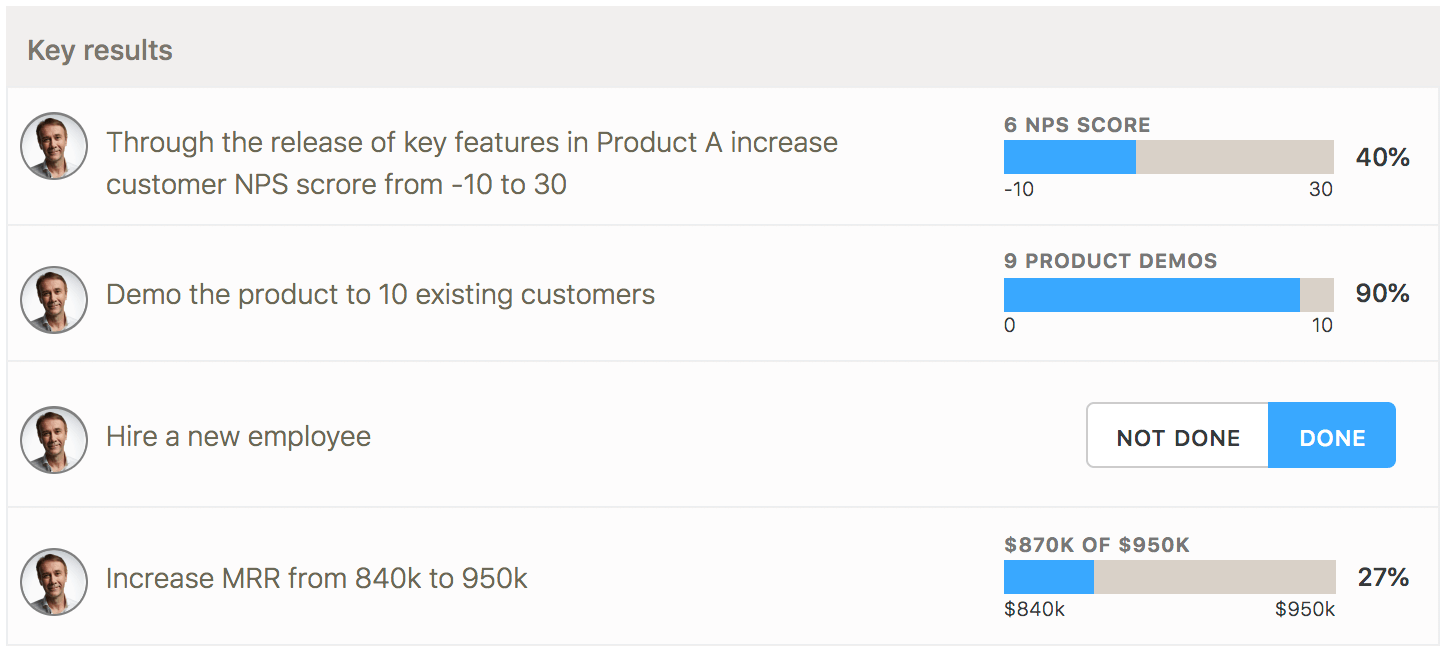 OKR based goal management
Facilitate great coaching conversations
The true value of an OKR implementation is realised when employees update their progress on a regular basis. Workteam prompts employees to update their goals and to start a conversation with their manager each week about progress towards their goals.

By creating an ongoing coaching conversation around an employee's progress, barriers can be removed, opportunities can be seized and expectations can be adjusted when circumstances change.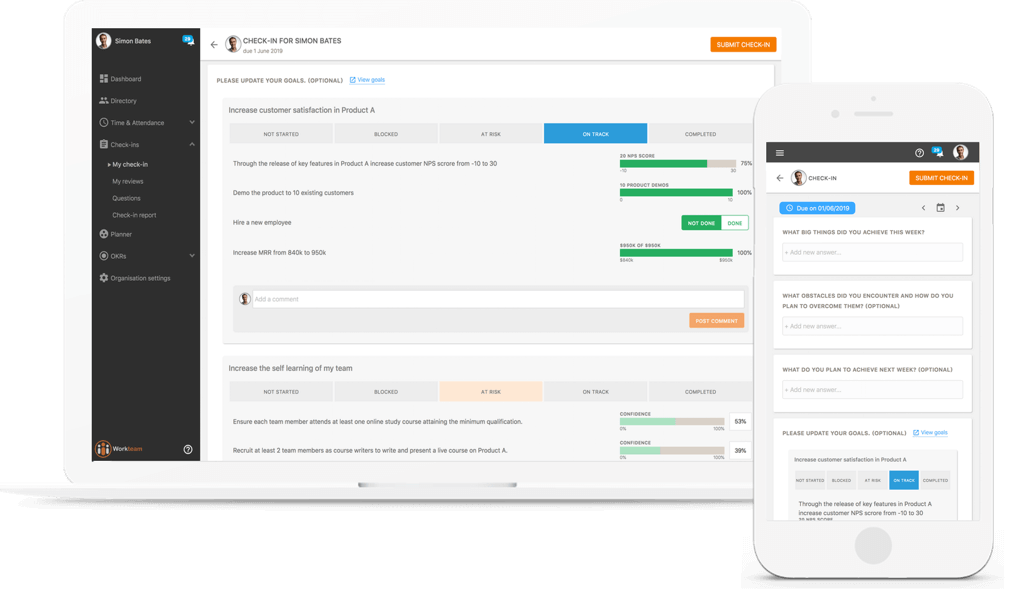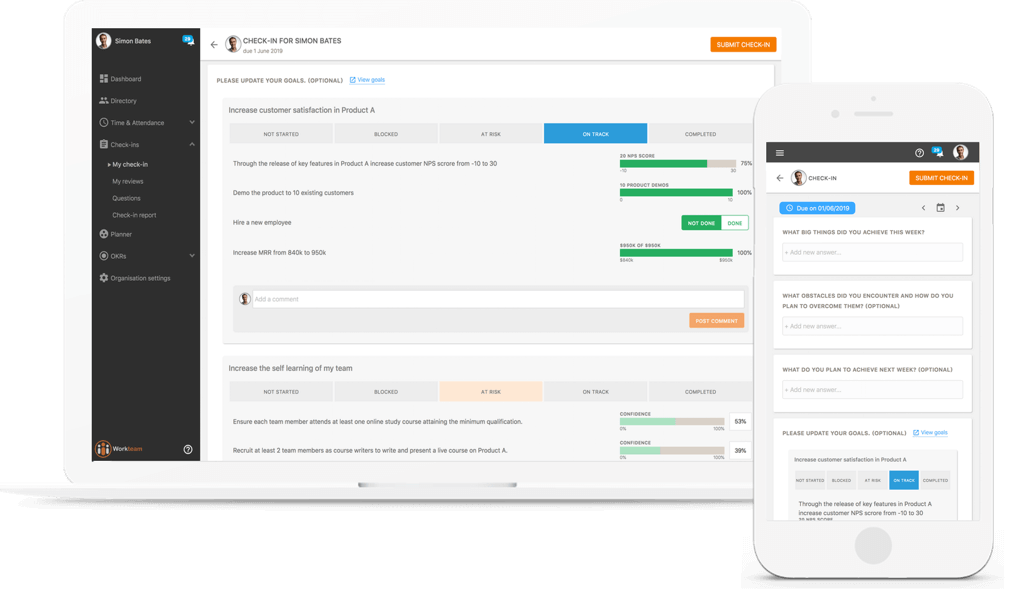 OKR based goal management
Increase transparency across the organization
Give your employees access to goal progress across the organization. When employees get a better sense of the progress going on around them, they become more engaged and better equipped to succeed.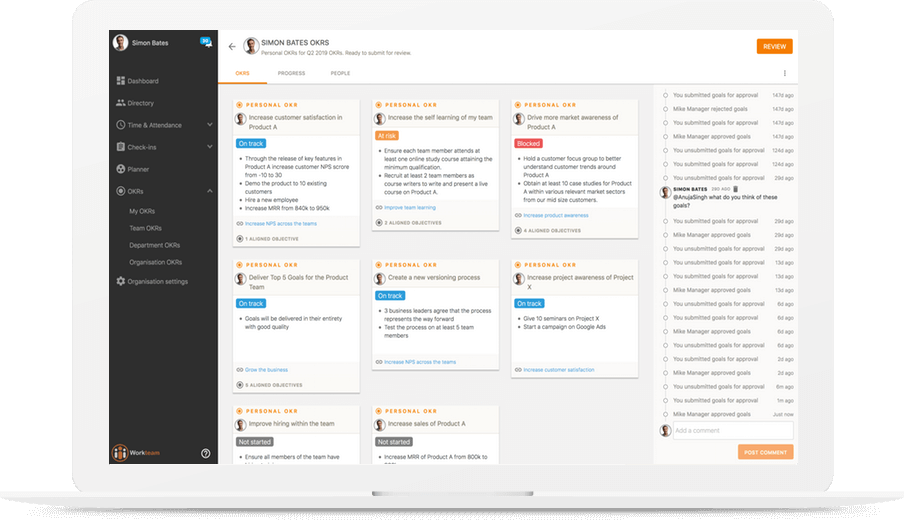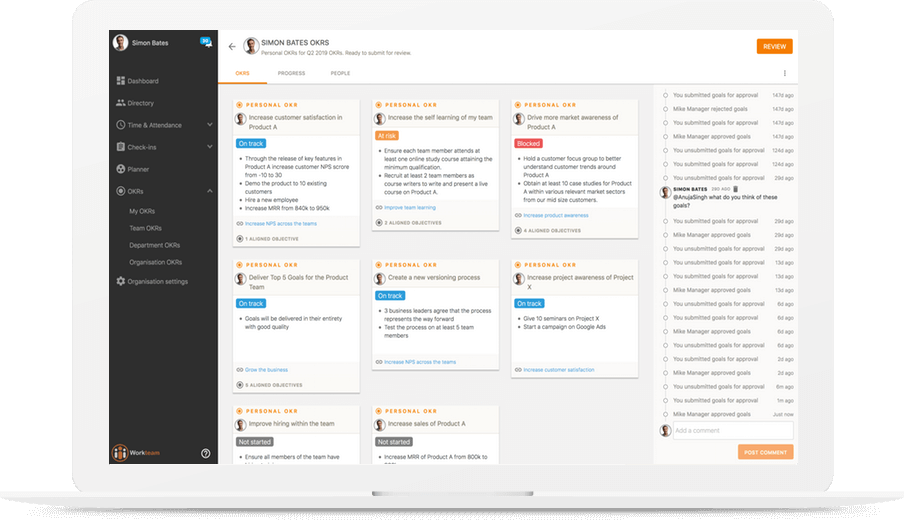 OKR based goal management
Deliver amazing insights
See real-time progress of employee goals against aligned objectives across teams, departments and right the way across the organization.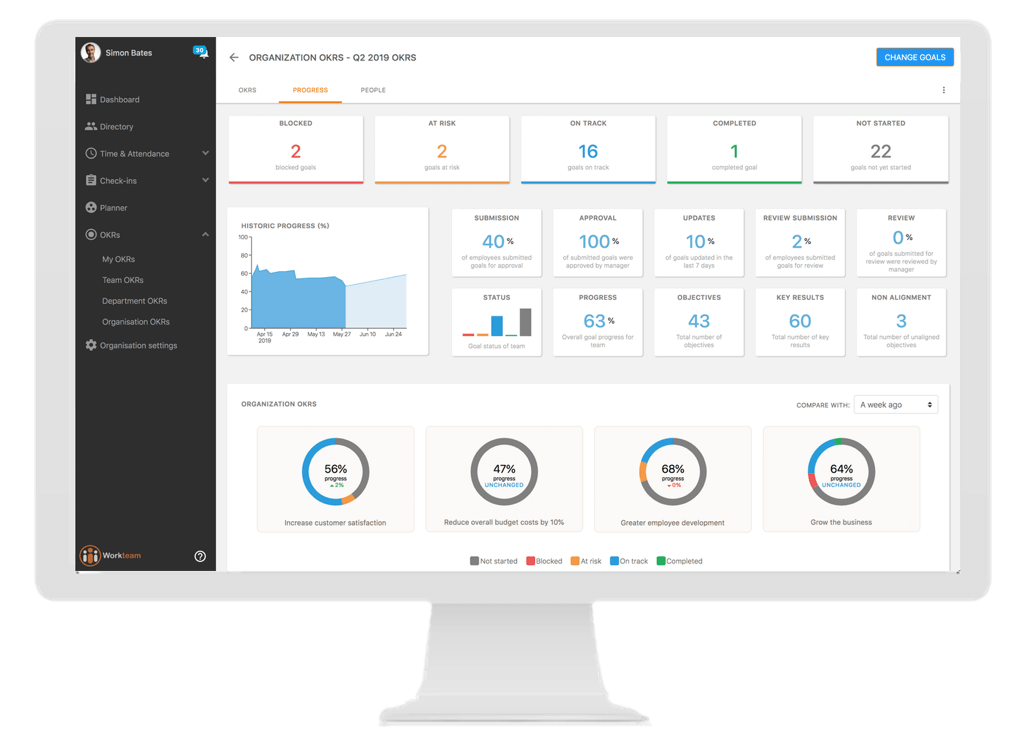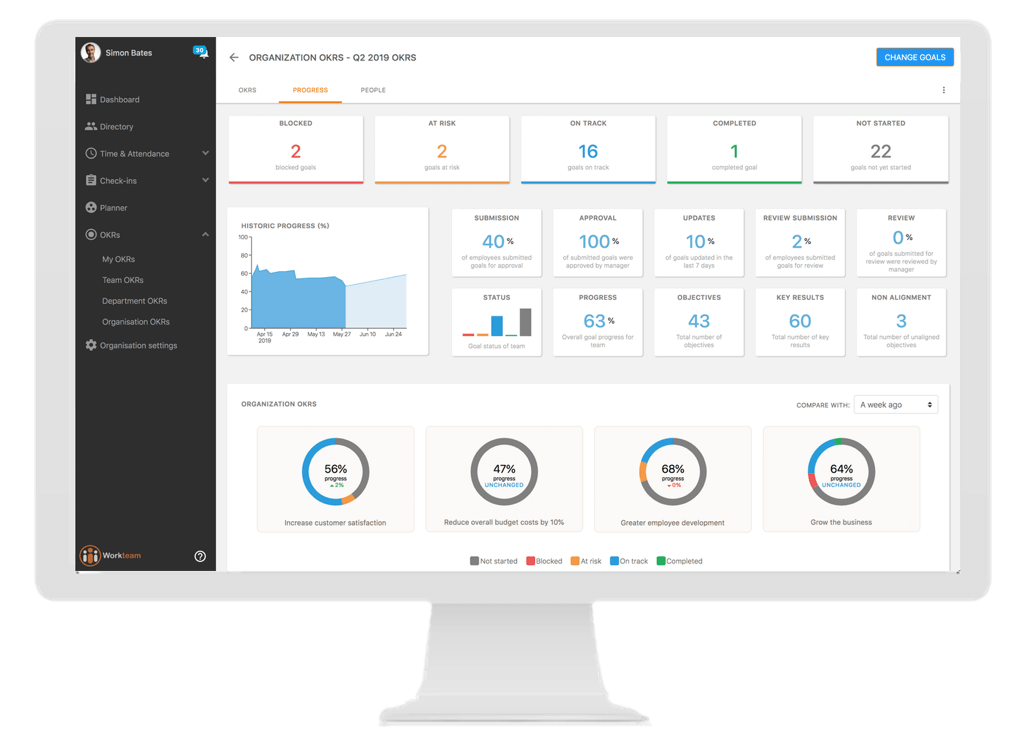 OKR based goal management
Enable managers to identify blockers
Managers can see at-a-glance if their employees' goals are blocked or "at risk". Workteam lets managers drill down to find out more and connect with the right people on the team to help ensure successful outcomes.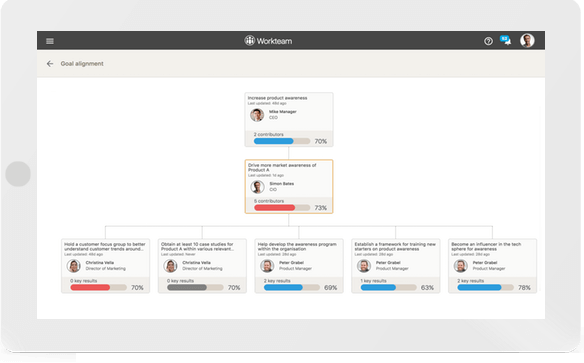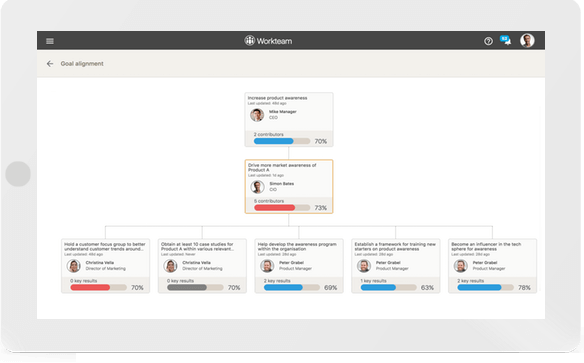 Pricing & Features
Workteam OKR Goal Management
$7
USD/User/Month (billed monthly)
Volume discounts above 50 users. See
pricing
for accurate pricing based on number of employees
Provides staff with easy access to the organization OKRs, their colleagues' OKRs and team and department OKRs
Track progress towards objectives via metrics-based key results
Configurable options for goal alignment - to manager, team, department or organization OKRs
Effortless bottom-up goal alignment and optional top-down goal cascading
Access Dashboards for insights of progress across teams, departments and the entire organization
Facilitate regular goal status updates through weekly check-ins
Use check-ins to create a culture of coaching
Start and track conversations around any goal across the organization
Optional planner integration
Single sign-on support for Okta, MS Azure AD, IBM Cloud Identity, Auth0 and any other SAML authentication provider
SCIM-based user provisioning and de-provisioning, compatible with Okta and MS Azure Active Directory
Book A Demo
Click on one of the dates below and choose a time slot for a free personalised demo of Workteam OKR Goal Management.
Try Workteam OKR Goal Management Free For 14 Days
☰