World class companies are choosing Workteam OKR as their goal management tool
How does it work?
Workteam OKR encourages your staff to achieve ambitious goals that are aligned with the company strategy. It encourages transparency and provides a collaborative platform that enables managers to provide feedback and coaching to help their teams achieve successful outcomes.
Organizations that use an effective OKR and feedback tool, such as Workteam, remove barriers to growth and set themselves on a trajectory for hyper-growth.

Watch the video and learn about the transformational power of Workteam OKR.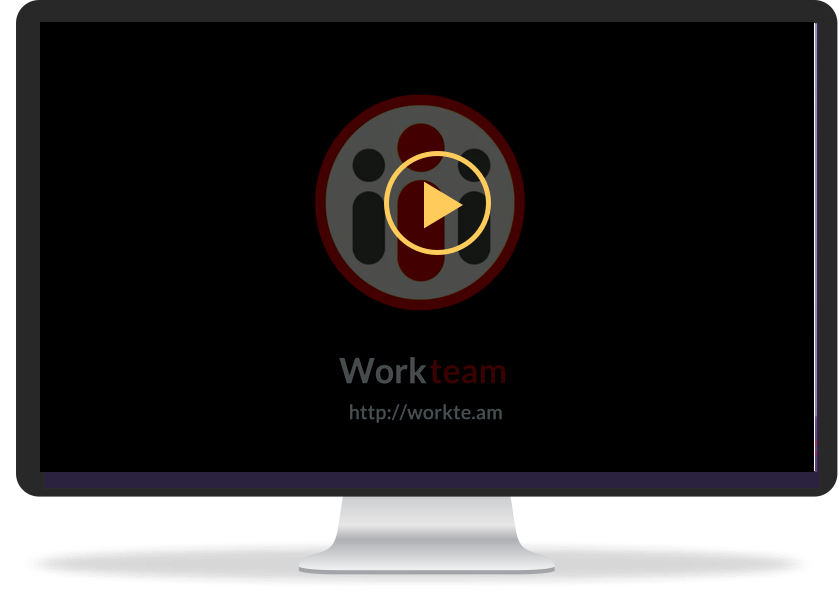 Easy-to-use OKR software to measure what matters
Provide your employees with the clarity they need to set aligned and ambitious goals. When employees understand how what they do contributes to the organization goals they feel more engaged.


Companies that provide quality coaching can reach 7% greater annual revenue growth.




By increasing transparency you help employees make faster and more informed decisions, making the orgranization more nimble and responsive.



Ensure staff contribution to company priorities are measurable and produce results that help move the company in the right direction.




When you ask your employees to set themselves challenging goals and not simply goals they know they will achieve, people tend to be more motivated, resulting in higher levels of engagement.

When information is shared openly, hierarchies are lowered and trust increases. Employees feel empowered to make faster, more informed decisions, which positively impacts organization performance.

Empower your staff to exchange ideas, experiences and knowledge in a way that helps accelerate performance and growth.



Provide your staff with a platform to give praise and public reecognition to others, which will help drive higher levels of motivation and engagement.


Customer Success Stories
Tasi Gottschlag,
COO, Keela Inc
Prior to using Workteam, CXOs had limited visibility into the issues that staff faced on a daily basis.
"Workteam has helped me recognize progress and reward performers and coach team members that need help. The staff love it!"
Lizzie Sheppard,
Senior HR Executive, More2
Before More2 started using Workteam their staff contributions were not always aligned with the company strategy.
"The value of Workteam has been to help our staff align what they do with the organization's goals."
Features
Communicate company strategy

with clarity and without ambiguity

''Access to short, medium and long terms organization goals in one clear view is really helpful for our staff when setting their own goals.''

Tasi Gottschlag, Chief Operating Officer at Keela
Communicating Company Strategy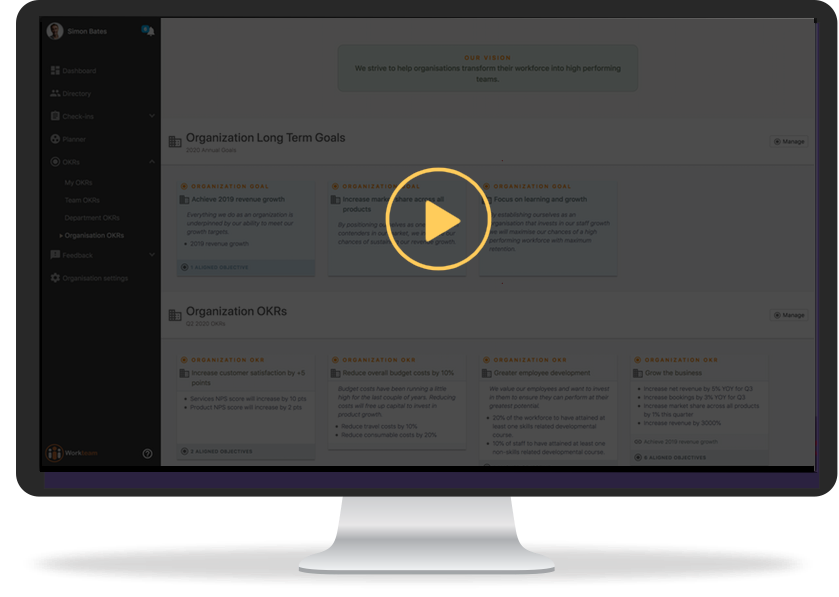 Effortless
goal alignment

of employee goals to company strategy

''Workteam has made it easy to ensure our staff are prioritising around goals that align to the company strategy.''

Lizzie Sheppard, Senior HR Executive at More2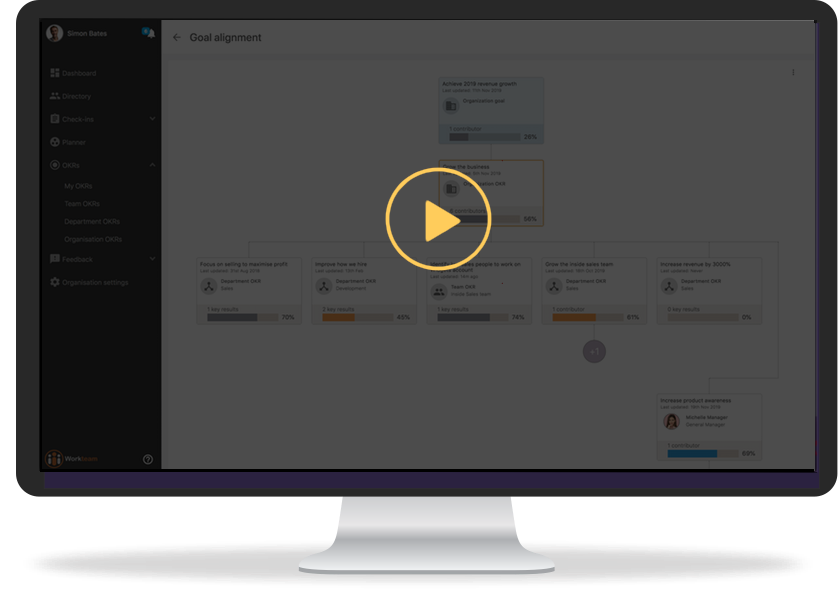 Provide your managers will the ability to
coach

their staff

''Workteam has given me insights into the team that I did not have before.''

Tasi Gottschlag, Chief Operating Officer at Keela
Helping Managers Coach Their Staff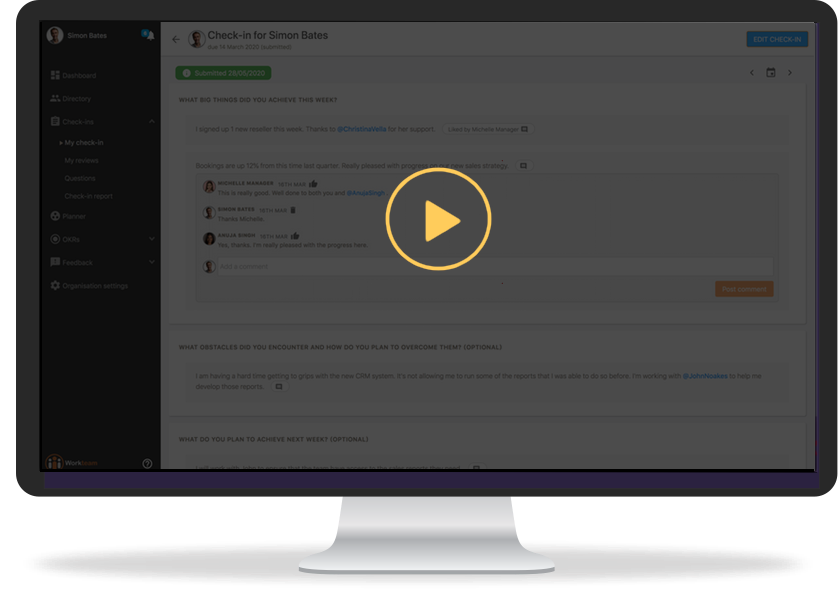 Dashboards that provide a helicopter view of
goal progress

.

Workteam provides a simple consistent dashboard, showing progress across teams, departments and the entire organization. Watch the video to see how it works.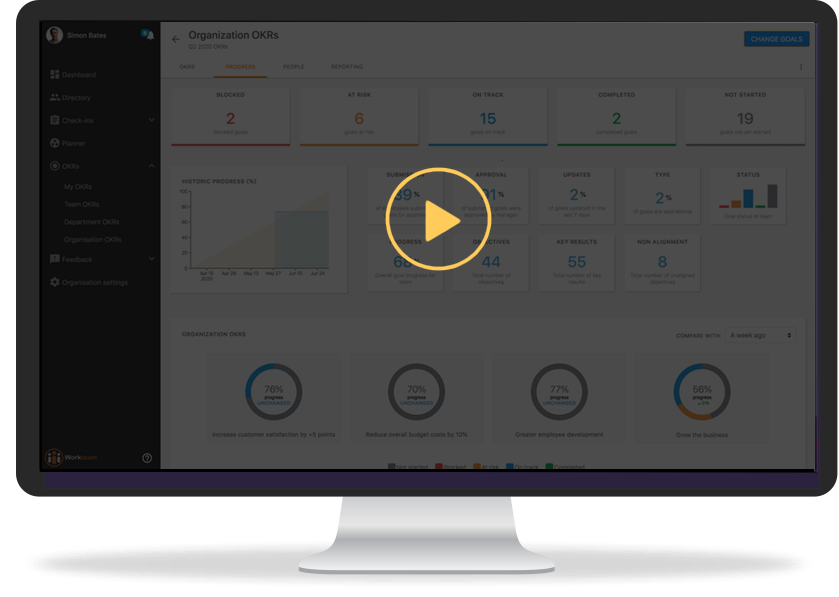 Update key results
automatically

from integrations.

Workteam integrates with external applications to automatically update key result progress from external data. Watch the video to see how it works.
Update Key Results From External Sources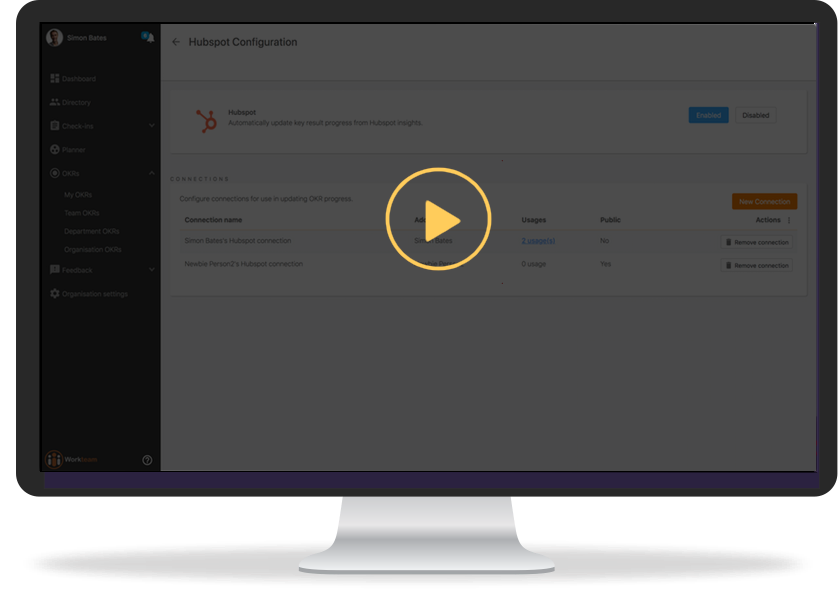 A powerful platform for giving and receiving
peer feedback

.

Enabling your staff to give effective feedback helps motivate employees and increases the performance of your teams.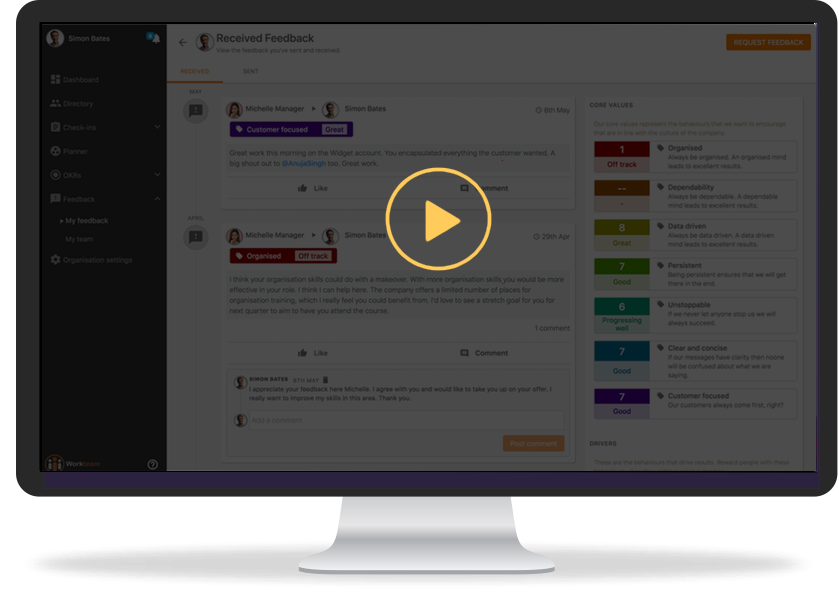 Book A Demo
Click on one of the dates below and choose a time slot for a free personalised demo of Workteam OKR Goal Management.
Frequently Asked Questions
Why Workteam? How is it different from other OKR solutions?
arrow_drop_down
To drive high performance in your organization, you need more than just an OKR tool. OKRs must be combined with a platform for continuous peer feedback to educate and motivate staff. To achieve successful outcomes, employees need coaching and mentoring from their manager through regular weekly check-ins. Only Workteam provides the tools to enable this. Furthermore, only Workteam provides a collaborative work management tool that lets employees plan objectives and key results in a more granular way, making them far more likely to hit their goals.
Who are you guys anyway?
arrow_drop_down
Our CEO, Simon Bates, has a proven track record of successful tech companies. His previous company, Byte Squared, created the world's first Office document editor for the iPhone and iPad back in 2008, just when the App Store was launched. Byte Squared attracted 12 million users of their product and was later acquired by Citrix. Now, Simon is turning his attention to a new startup, Workteam, where he wants to continue providing really useful software to help teams transform into efficient and high performing teams.
What results will I get from this?
arrow_drop_down
Many organizations experience problems as they grow their headcount, mostly around communication and alignment of work. Workteam helps address many of the problems and will help prepare your company for explosive growth.
Does Workteam integrate with other products?
arrow_drop_down
Yes, Workteam integrates with several products. There are integrations for single-sign-on, for user provisioning, for messaging and for automatically updating key result progress.
Can I try Workteam before I subscribe?
arrow_drop_down
Is it easy to deploy Workteam in my organization?
arrow_drop_down
It is straight forward. Workteam is cloud based software, so there is nothing to install at your side. When you create a trial account, you'll be shown a step-by-step guide to help you configure Workteam in the way that best works for you. Then, it's just a case of inviting your employees.
Once I susbcribe, am I tied into a fixed term agreement
arrow_drop_down
No, if you subscribe by credit card and pay monthly, you can cancel at any time.
Pricing
Workteam OKR Goal Management
$7
USD/User/Month (billed monthly)
Provides staff with easy access to the organization OKRs, their colleagues' OKRs and team and department OKRs
Track progress towards objectives via metrics-based key results
Configurable options for goal alignment - to manager, team, department or organization OKRs
Effortless bottom-up goal alignment and optional top-down goal cascading
Access Dashboards for insights of progress across teams, departments and the entire organization
Facilitate regular goal status updates through weekly check-ins
Use check-ins to create a culture of coaching
Start and track conversations around any goal across the organization
Peer recognition platform that helps establish a praise culture
360 Feedback system with optional ratings on values, skills or drivers.
Optional planner integration
Single sign-on support for Okta, MS Azure AD, IBM Cloud Identity, Auth0 and any other SAML authentication provider
SCIM-based user provisioning and de-provisioning, compatible with Okta and MS Azure Active Directory
Enable integrations for automatically updating key result progress
☰